" – Women, pack your coffers, we are travelling!
  – Where did you get the money?
  – No money, I enrolled us on folklore! "
This couldn't be more true. Believe me, I'm in this for more than three years. Of course, before everything you need to learn the choreography and it takes a lot of practice, but it is worth it. I have no idea how many places did we visit, but it was always for free.
The community of Hungarians from Bjelovar – that is the name of our folklore society, but originally name (the Hungarian name) is Bjelovári Magyarok közösége. Till this time, I learned three words: Thank you = köszönöm, Good day = jó napot and Bless you! = "Ekišingene" (I don't know how to spell it, but this is how you say it! I guess..).
I have always wanted to dance, but folklore wasn't on my mind when I was thinking about that. My choice would be like dancing we see on television; on streets with your gang where you all act like one and show off in front others cliques.. or with your perfectly-shaped and good looking partner at the middle of the night in rainy and deserted town.. Or to dance with swords… Folklore, as you can conclude, never intended to turn up on list.
I was very clumsy at first. Maybe it's because I'm just not made for dancing, but they needed members because folklore isn't very popular these days so I stayed (not with really my consent), with my sister of course (she was better than me anyway). I didn't like the old clothes we wore on our performances. I didn't like to dance with people I don't know, but the worst thing was when a man was shorter than me; I felt ridiculous.
But it was the very beginning. Most of the things had changed now. These people became my second family, I wasn't the worst dancer there anymore, I learnt around seven different choreographies and I was forced to learn how to move with a glass bottle on my head.
I am looking forward to every performance wherever it is. We've been to many places and attend many festivals and events. Look at the pictures!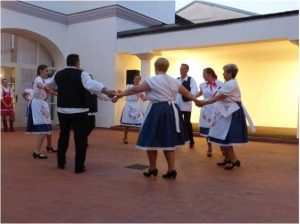 This was one of my first performances. (July, 2015) The tiles to slippery to wriggle. Any fast movements were dangerous to do.
August, 2015.
Cultural manifestation "What did our ancestors eat?" ("Kaj su jeli naši stari").
We come to Vrbovec every year and always have a great time!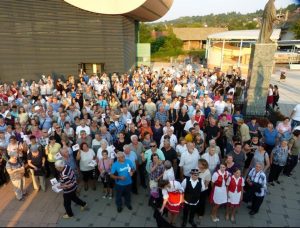 August, 2015.
We were all gathered at church in Aljmaš (on Dunav).
I'm the one petting a dog in a picture:)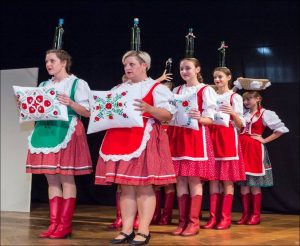 October, 2016.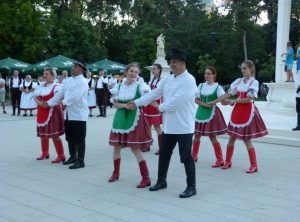 July, 2017.
Our last performance in Bjelovar for event "Together in the community" ("Zajedno u zajednici")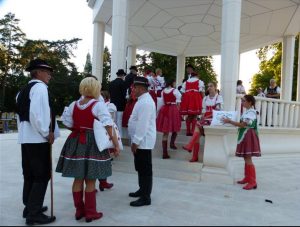 July, 2017
Waiting for a group picture on the pavilion like…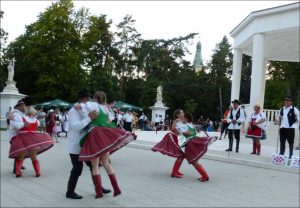 And my favourite picture on our travel was taken in my town Bjelovar. My sister and I dancing like nobody's watching…
Miljana Stojčić, Vladimir Prelog Science School, Zagreb, Croatia