About fika, bonding internationally and finding your twin in the other part of the continet… all in all: The attempt of wraping up one Croatian's Swedish experience in one single article
For all of the students travelling to Sweden for another UFO meeting, the third one after meetings in Austria and Croatia, it all started on the 17th of September 2017., but for us Croatians the whole Swedish experience started a day earlier when us, students (Marta, Roko, Miljana and I) and our teachers; Ms Turk and Ms Vukmir gathered on the Zagreb airport on that early Saturday morning. Although some of us didn't get enough sleep, precisely me, because of the excitemnt before the trip, we were all fresh and ready for the new adventures the following week put in front of us.
So the whole journey began with a lot of adrenaline in our veins, for some of us even more because it was their first time flying on a plane. After one extremely interesting flight in Croatia Airline's Dash plane, a short stop in Zurich and much comfier two hour flight we arrived to Gothenburg. The first thing we've done was going to our hotel and settling in our rooms which provided us a view on the port of Gothenburg and an amazing Älvsborg Bridge which me and my fellow travelers compared to the Golden Gate bridge in San Francisco. After that we went exploring the city as the sun set somewhere behind the port of Gothenburg leaving its traces on the pink coloured clouds and the first lights going out on the Gothenburg's streets and their reflection on the canal beside flat Paddan boats. And it was then that our love for fika, traditional Swedish concept of having coffe or tea accompanied with pastries, started. We went to the Espreso house caffe to get some tea (also my favourite drink there was tea and the fact that I had a cold at the time may have contributed to it), tried some kanelbullar and were amazed with the taste of those sugar sprinkled cinnamon rolls so the traditon of eating them became our daily routine throughout our stay in Sweden (and even longer as we tried to make them at home when we came back to Croatia :). The rest of the week we spent in Vanersborg learning a lot about media (the main theme of the UFO meeting in Sweden), and photography, for example photo manipulation, and all that through theme work and workshops. But it wasn't only about learning, it was also about sharing experiences among young people who come from different countries and have different lifestyles, it was about bonding and making friendships of which some will (at least I hope so) last for a lifetime. And all of that was the proof that together we can do a lot of things and we can at least try to accomplish the main goal of our project and that is to unite our future together; online and in person. I learned a lot about different cultures not only Swedish but also Austrian, Dutch and Slovenian. Also since it was all about internationality I experienced Thai food for the first time during our visit to the Thai restaurant in Gothenburg where we had a nice meal in a surrounding of lots of little colourfull lights. If I try to wrap up all my Swedish experience I also must add that I didn't know I had a twin sister untill I came to Sweden! And she lives in Sweden! And although this may sound like a scene from a movie ' The parent trap' we also went camping (the whole UFO team) when we recognised our similarities, aspeccialy through our smiles.
These were just some pieces of the whole adventure, but they were also the most most iconic moments and when I look back at it one day, I will always remember it for the great time I had there, amazing people I met and trevelled with and what a valuable and worthwhile experience it was.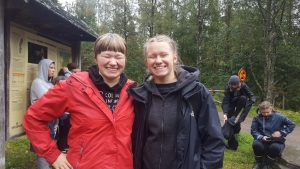 'My twin' Ulrica (on the left) and I (on the right)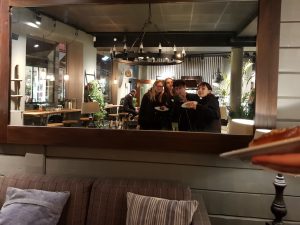 Croatian team discovering fika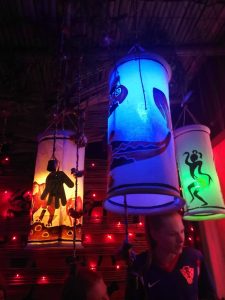 My host Berit in a Croatian football dress in a Thai restaurant
Viktorija Veličan, Vladimir Prelog Science School, Zagreb, Croatia